It's been just 3 days since Google released Android 4.2.2 JDQ39 update and CyanogenMod team are already at it. CM10.1 Android 4.2.2 build is being worked upon at the moment and the developers have made some good progress already. Today CM team posted a screenshot that reveals CM10.1 Android 4.2.2 ROM on Nexus 4 mako smartphone. Here's the screenshot: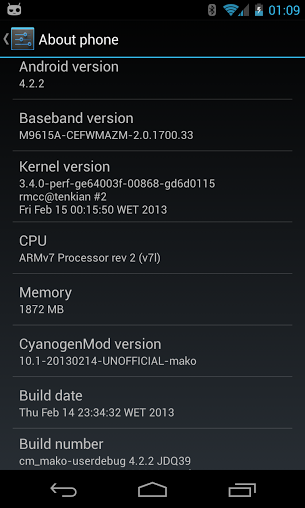 The CyanogenMod version is 10.1-20130214-UNOFFICIAL-mako. This build is marked as unofficial but it will obviously change when the CM 10.1 nightlies with 4.2.2 Jelly Bean start rolling out. The team is working on it to make it possible soon as they can. There is no official word on release date though but we can expect one soon as there's been really good progress lately. As CM posted on their G+ today:
Step 1 – Complete
Now for everything else, that's another story. More to come as we progress.
No 4.2.2 nightlies yet, don't ask.
Work on Android 4.2.2 based CM10.1 ROM started soon after the Android Jelly Bean 4.2.2 started rolling out to Nexus devices. CyanogenMod team posted an update saying:
Android 4.2.2 –  mr1.1-release
This update is deceptively large in the change department, but still manageable. We are working on the same principle as with the update from 4.1 to 4.2, and are working in 'mr1.1-staging' in our github.
There are quite a few conflicts, which are to be expected as we are more than just a bare AOSP OS, but these will have to be sorted before we start issuing releases based on the 4.2.2 code base.
So, the work is underway and some progress has been made already. Just waiting for Android 4.2.2 CM10.1 to drop soon. Stay tuned!