CyanogenMod team is working on a killer new feature for the ROM that will let the apps "Run in Incognito Mode". The CM Per App Incognito mode feature will enhance the privacy by a great deal once rolled out. The feature will soon be part of CyanogenMod ROMs and will help you control your privacy settings and protect your personal data from any apps. It will add a flag to each app, enabling you to enable / disable Incognito mode for each app. Once enabling the feature it will confirm the action by showing following message: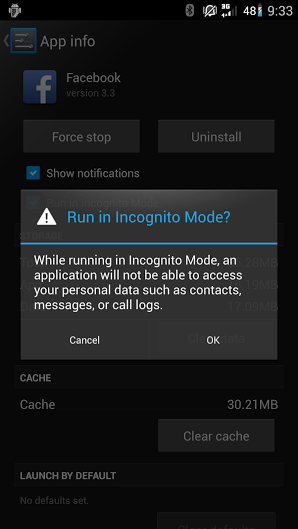 Run in Incognito Mode?

While running in Incognito Mode, an application will not be able to access your personal data such as contacts, messages, or call logs.
Says it all! It's perhaps the easiest way to protect your personal data that you don't want to share with any particular app. That's how the CyanogenMod team have described it: Easy privacy. What this feature will actually do is:
Return empty lists for contacts, calendar, browser history,and messages.
GPS will appear to always be disabled to the running application.
When an app is running incognito, a quick panel item is displayed in order to turn it off easily.
No fine-grained permissions controls as you saw in CM7. It's a single option available under application details.
Most of the users would be aware of "Incognito Mode" in Chrome browser. The feature lets you browse privately, preventing websites to use Cookies and other data. CyanogenMod's feature is very similar to that, except it's for apps. For anyone who's worried about apps accessing their data without their knowledge, should be very pleased with this announcement. The feature is expected to roll out in future builds of CyanogenMod. There is no ETA though but we can hope to see Incognito Mode in CM10.1 ROM.
via CyanogenMod G+