Google Play 4.0, the upcoming version of Google Play Store has apparently been leaked and it looks really good with improved User Interface which is cleaner than current versions. With adoption of Holo theme, the new UI has bigger pictures and a new font giving it a clean, compact and minimal look while the overall layout remains the same. Bigger images now appear on all search pages as well as on individual app, movies, music pages. This will certainly help the potential buyer in deciding whether to purchase an app or not as the screenshots play much bigger role than textual app description. Here are some pictures, as posted by Droid-Life, of Google Play Store 4.0.16 app:
Google Play 4.0 Screenshots
First have a look at Google Play app homepage: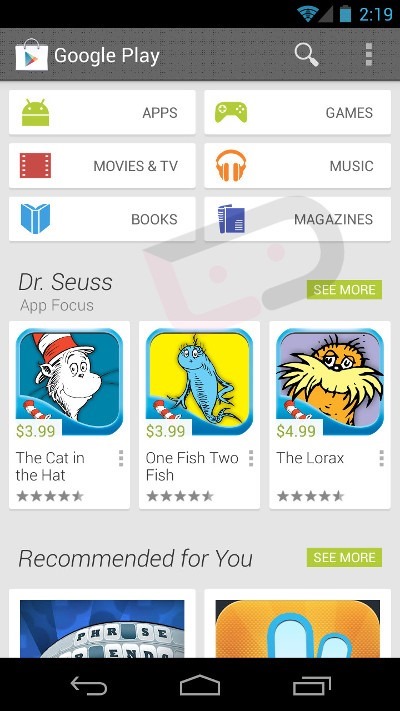 Here is how individual Books, Magazines and Apps pages appear (respectively):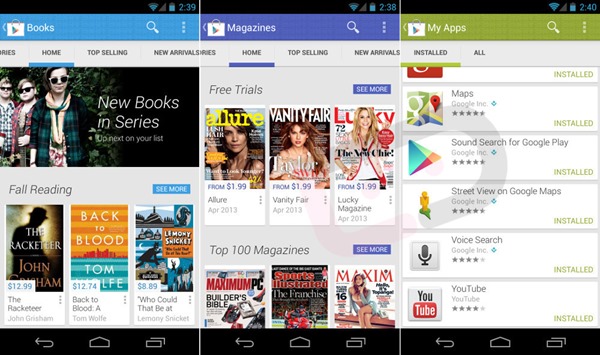 And here is a brief look at Movies & TV and Music pages:
Still missing something … ? Well here's a video preview:
Google Play 4.0.16 Preview Video
Google Play has really evolved over time and the improved look and feel that is being shown off in pictures and video will improve the usability and interactivity of the app. It takes unnecessary details out of the way and shows the user what they actually need to see, that is the screenshots and features / description.
We are not certain when this redesign will be released to public. There is no word on release date. We hope that a version gets leaked out so that we can try it out. For now, all we can do is to wait and see till something comes our way. We'll keep you updated on that, stay tuned!