The Google Nexus 4 Toolkit is now available for download. For those who don't know, the toolkit allows you to do plenty of stuff with your device without much effort. Whether you are a novice getting your hands on an Android device for the first time or a pro user, you can use the toolkit to do the basic stuff from installing the right drivers and unlocking Nexus 4 Bootloader or root Nexus 4 to more advanced stuff like ADB/Fastboot and flashing custom ROMs. Here are some of the possibilities:
Root Nexus 4 4.2
Backup data / apps and restore from the backup
Install Fastboot drivers automatically
Unlock Bootloader
And much much more. There's virtually nothing that you can't do with this toolkit and its super easy to use. Before playing with it, we recommend to have USB Debugging enabled on your device if you haven't done it yet.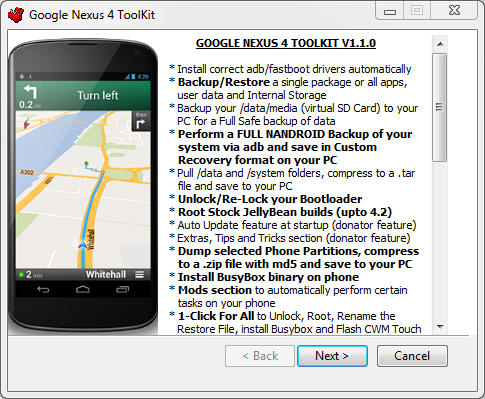 Download N4 Toolkit for 64 Bit / 32 Bit Windows
Please note that the Nexus 4 Toolkit for Mac or Linux is not available, it's Windows only. So, you will have to use Windows XP / Vista or Windows 7 to use it.
via XDA