Unofficial CM 10.1 for HTC Sensation Alpha Build with Jelly Bean 4.2.1
You can now have Android 4.2.1 on Sensation thanks to the unofficial port of CM 10.1 on HTC Sensation. It's still the early stages and there are some bugs yet to be ironed out and some of the features are not working. If you want to give it a try, you can download it now and flash it on your device. Here is everything you need to know:
ROM: CyanogenMod 10.1 for HTC Sensation (with Android 4.2.1)
What's working:

SD card

Display

Radio

WiFi

What's not working:

Camera

Bluetooth

Audio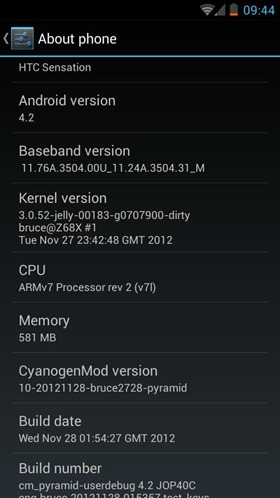 Download CM 10.1 Jelly Bean 4.2.1 for HTC Sensation
Download the latest version from this XDA thread
Currently, the latest version download link is: cm-10-20121204-bruce2728-pyramid.zip
Also download Google Apps package: gapps-JOP40C-Gesture-Photosphere-Wallet.zip
After downloading, you can flash the zip files on your device. Please beware of bugs and missing features in the alpha build before installing this release of CM 10.1 for Sensation. Goodluck!
via XDA