Sprint Galaxy S4 SPH-L720 is receiving a software update. Based on Android 4.2.2 JDQ39, the firmware L720VPUAMF9 brings Apps to SD on Sprint GS4, a feature that lets you install apps on your SD card storage instead of phone storage. In addition to this, there are some other cool features as well. The only downside of installing L720 VPUAMF9 update could be that it will lock the bootloader. So, those who have unlocked their device's bootloader should be aware of the fact that this update may lock the bootloader again. Here are the changes in this update:
What's New in L720VPUAMF9 Update
Samsung Security Suite: Samsung Knox
New apps: Briefing, SPDclient
Apps to SD support
Transparent Status bar for custom wallpapers
Firmware Details:
PDA: L720VPUAMF9
Version: Android 4.2.2
Build Number: JDQ39.L720VPUAMF9
Device: SPH-L720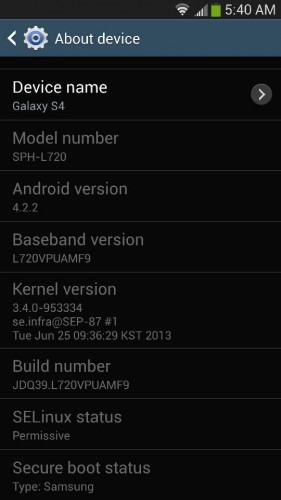 Warning: This update may lock bootloader of your device if you have unlocked it.
While it's not certain if this update locks bootloader or not, a locked bootloader is requirement for Samsung Knox security suite which is part of this update. So, it's very likely that it will update the kernel and modem and will lock Sprint GS4 bootloader.
Install Sprint Galaxy S4 L720 VPUAMF9 Update
This update is currently rolling out to supported devices. You will receive a notification of VPUAMF9 update for SPH-L720 smartphone. Upon receiving the notification, you can download and install it. It's 375MB in size, so make sure that you are connected to a reliable internet connection over Wi-Fi to download the update without any interruptions.
If you have not received the update yet, you can check if it's available for your device yet or not. To do so: Navigate to Settings > About phone and tap on System Update.
via AndroidCentral