Samsung Galaxy S4 I9500 System Dump Now Available for Download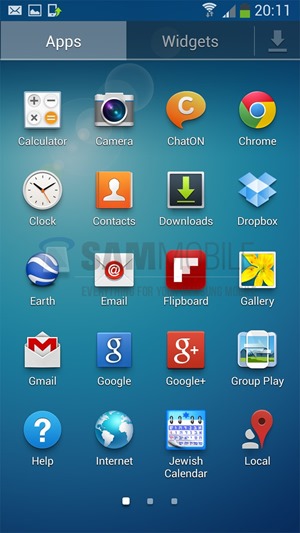 Samsung Galaxy S4 system dump has been leaked and is now available for download. The dump is based on Galaxy S4 firmware I9500XXUAMCH dated March 23rd 2013. This will certainly help developers in porting some of the exclusive SGS4 features to Galaxy S3 and other devices. The dump was made available thanks to an insider who shared it with guys at SamMobile. If you want, you can now download I9500XXUAMCH zip file from the download link provided at the end of this post. It's well over 1GB in size. Here are the details followed by some screenshots: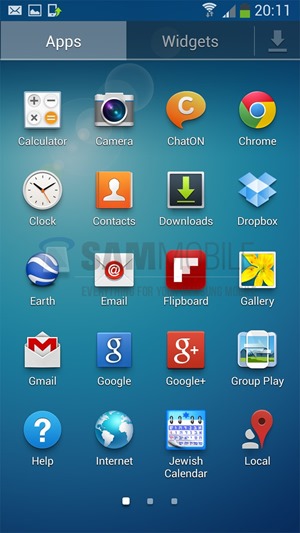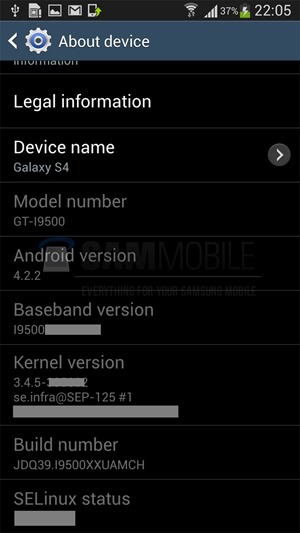 Galaxy S4 System Dump Details:
PDA: I9500XXUAMCH
Version: Android 4.2.2 JDQ39
Date: March 23, 2013
Changelist: 335382
I9500XXUAMCH Build.prop
# begin build properties
# autogenerated by buildinfo.sh
ro.build.id=JDQ39
ro.build.display.id=JDQ39.I9500XXUAMCH
ro.build.version.incremental=I9500XXUAMCH
ro.build.version.sdk=17
ro.build.version.codename=REL
ro.build.version.release=4.2.2
ro.build.date=Sat Mar 23 00:00:34 KST 2013
ro.build.date.utc=1363964434
ro.build.type=user
ro.build.user=se.infra
ro.build.host=SEP-125
ro.build.tags=release-keys
ro.product.model=GT-I9500
ro.product.brand=samsung
ro.product.name=ja3gxx
ro.product.device=ja3g
ro.product.board=universal5410
ro.product.cpu.abi=armeabi-v7a
ro.product.cpu.abi2=armeabi
ro.product.manufacturer=samsung
ro.product.locale.language=en
ro.product.locale.region=GB
ro.wifi.channels=
ro.board.platform=exynos5
# ro.build.product is obsolete; use ro.product.device
ro.build.product=ja3g
# Do not try to parse ro.build.description or .fingerprint
ro.build.description=ja3gxx-user 4.2.2 JDQ39 I9500XXUAMCH release-keys
ro.build.fingerprint=samsung/ja3gxx/ja3g:4.2.2/JDQ39/I9500XXUAMCH:user/release-keys
ro.build.characteristics=phone
# Samsung Specific Properties
ro.build.PDA=I9500XXUAMCH
ro.build.hidden_ver=I9500XXUAMCH
ro.build.changelist=335382
ro.product_ship=false
ro.chipname=exynos5410
# end build properties
Download SGS4 System Dump
Direct Download Link: I9500XXUAMCH-SystemDump.zip
File size is 1549.8 MB. So make sure that you are connected to a high speed network before downloading the system dump for Galaxy S4. Also, if you are not into development, this may not be useful for you.
via SamMobile