I727UCMC1: AT&T Skyrocket Jelly Bean Official Update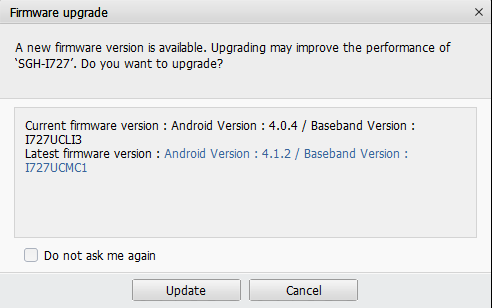 The AT&T Galaxy S2 Skyrocket official Jelly Bean update has finally started rolling out. You can now download and install I727UCMC1 firmware on your Skyrocket SGH-I727 smartphone. Samsung started rolling out the update earlier today and it's available via Samsung Kies. For those who are unable to see a software update available in Kies, they can also download the firmware zip file and install it manually using Odin.
This is official Jelly Bean for Skyrocket update and brings a whole lot of new features and enhancements for I727 users. Here is everything you need to know followed by the instructions on how to upgrade Skyrocket to JB official update:
Firmware Details:
PDA: I727UCMC1
CSC: I727ATTMC1
Version: Android 4.1.2 Jelly Bean
Build Date: March 13, 2013
Changelist: 844945
Update Skyrocket I727 to UCMC1 Jelly Bean Official Update
You can update your device in following ways:
Update using Samsung Kies
To update your smartphone using Kies, you will need to follow these steps:
Step 1: Download and install Samsung Kies.
Step 2: Connect your device to the computer and launch Kies.
Step 3: Once device is connected and is detected by Kies, you will see following message popping up: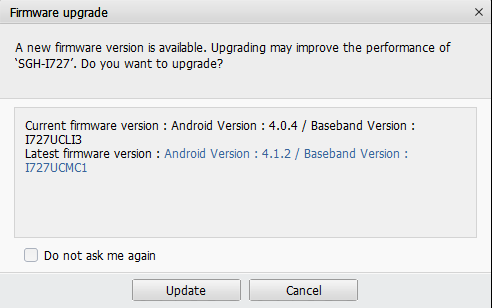 Step 4: Click on "Update" button to install the update on your device.
Step 5: In next screen check the "I have read the above information" checkbox and select "Allow saving" radio button and then click on "Start upgrade" to start the process.
The update will now be downloaded and installed. Wait for the process to complete.
For more information on this, head to this Samsung Support page.
Manually Install I727UCMC1 – Skyrocket Jelly Bean Update
If you do not see a software update available via Kies, you can download and install it manually:
Download the firmware zip file: I727UCMC1_I727ATTMC1_ATT.zip
After downloading the update, you can install it using Odin3. Here is a detailed step by step guide on how to install stock ROM using Odin.