Want to update Nexus 4 to 4.3 Android Jelly Bean? Thanks to the leaked System Dump, you can now install Android 4.3 JWR66N on Nexus 4 (Mako) smartphone. The System Dump had been leaked few hours ago, as TWRP backup. It didn't have the bootloader and radios but you can still flash it on your device, it appears to be working alright. Flashing this leaked dump is as easy as flashing a zip file from Custom Recovery. It will update your Nexus 4 to Jelly Bean 4.3 with updated Play Store app and some other improvements.
Firmware Details:
Baseband Version: M9615A-CEFWMAZM-2.0.1700.48
OS Version: Android 4.3
Build Number: JWR66N
Kernel Version: 3.4.0-perf-gd1dbbaa
Build Date: June 13th, 2013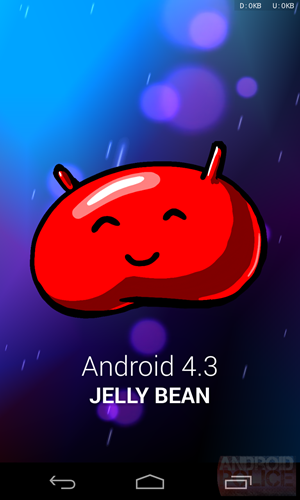 Here is a detailed guide on how you can install Android 4.3 leaked dump on LG Nexus 4:
How to Update Nexus 4 to Android 4.3 JWR66N
Warning: Continue at your own risk. We will not be responsible for any harm done to your device.
Before you Begin:
As a precautionary measure, backup your important data, including messages, photos, contacts and anything else that you don't want to lose
Make sure to set up ADB on your PC.
You need to have a custom recovery installed on your device (Like CWM or TWRP recovery)
Enable USB Debugging on your Nexus 4
Step 1: Download the pre-rooted leaked system dump. Download any 1 of the 2 versions provided below. One is odexed and the other is deodexed verson of the ROM:
Download links via XDA
Recommended Reading: Difference between Odexed vs. Deodexed ROMs
You can either try flashing the zip file by following this tutorial: How to Use CWM Recovery to Flash a Zip File.
Or you can continue reading as we guide you through the process here.
Step 2: Connect your device to the computer via the USB cable.
Important: Now, as mentioned in "Before you Begin" section, we are assuming that you have set up ADB and installed ADB drivers for Nexus 4. That's a must. To confirm if you have ADB successfully set up, launch Command Prompt and execute the command: adb devices

It will return device serial number which means that ADB drivers for your device are installed on the PC and it's working fine. Let's move on then.
Step 3: Boot Nexus 4 in custom recovery mode.
Execute this command: adb reboot bootloader
Once in bootloader mode, use volume keys to highlight the "Recovery" option
Use Power button to select the "Recovery". You will see Android logo with exclamation mark on your device.
Press Volume up + Power buttons at the same time to enter recovery mode
Step 4: Now execute following command in Command Prompt:
adb sideload [file.zip]
[file.zip] = path and name of the zip file that you downloaded in step 1 above.
This will now flash the zip file to your device. You've got to wait till the process is complete.
Step 5: Once the flashing process is complete, reboot your device.
You should now have rooted Android 4.3 on Nexus 4 installed successfully. Enjoy!
via AndroidPolice