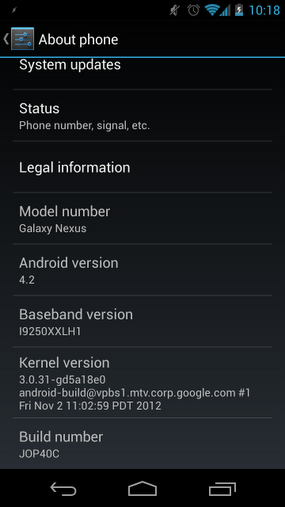 Official Android Jelly Bean 4.2 for Galaxy Nexus I9250 is now rolling out and the package is also available for download. So, if you have not yet received the update, you can download and manually install JB 4.2 on Galaxy Nexus device. It's the official update so there are minimal risks involved. The update has started rolling out shortly before Nexus 4 starts shipping to customers so the timing is just right and Google has delivered the update right on time for older Nexus device owners.
It was first reported by a Canadian user, Chris Taylor, on Google+ who received the update for his unlocked Galaxy Nexus Takju device. The direct download link and a step by step guide for those who want to manually flash Jelly Bean 4.2 on Galaxy Nexus I9250 is provided below
.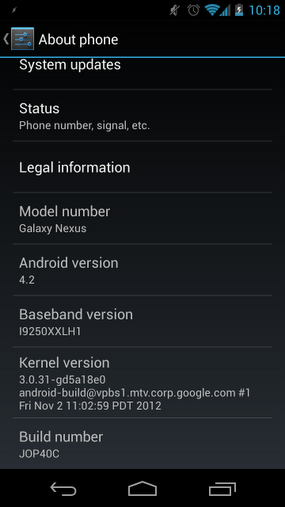 Important: Please note that you must have a factory unlocked Galaxy Nexus running Android 4.1.2 JZO54K to be able to install this update.
Before you Begin: Backup all your important data as you may lose it during the update process.
Backup SMS / MMS:
You can use an app to export Android SMS / MMS to XML and save it on your computer. The XML file can then be imported to restore the messages. Alternatively, you can export SMS / MMS to Gmail as conversations.
Backup contacts and other important data including photos and videos.
Manually Install Jelly Bean 4.2 JOP40C on Galaxy Nexus I9250
Installation process is very much the same for unrooted and rooted Galaxy Nexus device. Since rooted users will be using ClockworkMod Recovery, the installation step 5 is different than that of unrooted devices. Here are the steps:
Step 1: Download the official OTA update: signed-takju-JOP40C-from-JZO54K.e587de13.zip
Step 2: Rename the downloaded file to update.zip
Step 3: Connect your device to the PC and copy the update.zip file onto the root of your device's SD card.
Step 4: Put Galaxy Nexus in recovery mode:
Switch off your device
Press & hold volume up + volume down + Power buttons, once you see the Fastboot menu you can leave the buttons
Keep pressing the Volume up button till you see "Recovery" option
Use Power button to select the Recovery option
Press & hold Volume up + Power buttons till you see the Recovery mode menu
Tip: You can use Volume up and down buttons to navigate and Power button to select an option.
Step 5: In Recovery mode, select the option "update from SD card", then select the "update.zip" that you put onto the root of your SD card in step above.
If you have not rooted your device, you can omit following steps and read on the last paragraph. For those with rooted phones, follow these steps:
Step 5 for CWM Recovery Users: Once in ClockworkMod Recovery mode you need to select following options: flash zip from sdcard > choose zip from sdcard, now select the zip file you put on your SD card and confirm the installation when asked.
Step 6 (only for CMW): Once installation is complete, select "+++++Go Back" option to navigate back to main screen and then select the option "reboot system now" to reboot your device.
That's all you have to do, now wait and see as the ROM is installed on your device. It may take some time, so be patient. After installation is complete, your phone will reboot. First boot will take up to 5 minutes, so don't panic. Once it boots up, you will official 4.2 Galaxy Nexus update JOP40C running.
If you encounter any problems, do let us know in comments.