How to Install Android 4.2 AOSP on One X (Endeavoru_42)
Android AOSP 4.2 JOP40C for One X is now available. The developers have been able to port Jelly Bean 4.2 on HTC One X successfully. Since it's based on AOSP build, and is not the official release from the HTC, you will not find the HTC goodies therein and may also have toencounter some issues. Some of the stuff is not working. Here's all you need to know followed by the step by step guide to install Jelly Bean 4.2 on HTC 1x.
What's Working

Wireless
Phone calls
GSM Data (still needs some more testing)
Audio Output
Non-HD Video (eg: YouTube HD is broken)
GPS

What's not Working

Camera
HD-Videos
Audio recording (= no VOIP, crashes the audio subsystem)
Bluetooth
Fails to boot on phones running HBOOT 1.31 (if you have hboot 1.31 and would like to have this fixed: please join our IRC channel)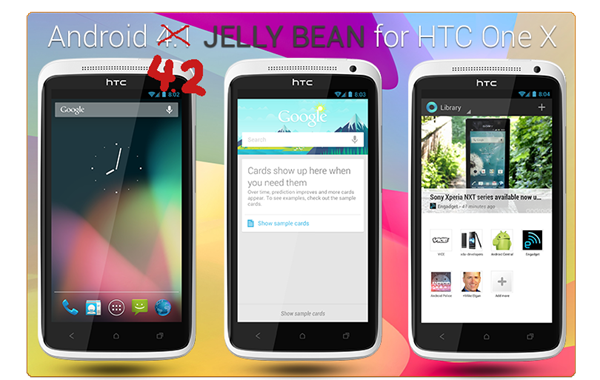 How to Flash Jelly Bean 4.2 for Endeavoru on HTC One X
Note: This tutorial works for HTC One X on Mac, Windows as well as on Linux / Ubuntu.
Before you Begin:
Backup your important data as you may lose it in the process. Also backup your SD card.
You should have ClockworkMod Recovery on One X installed.
Step 1: Download required files:
Step 2: Copy the ROM zip file to your phone.
Step 3: Extract the Flash_Boot.zip file. Also extract the ROM zip file on your PC.
Step 4: From the directory where you extracted the ROM, copy boot.img file and paste it in the Fast_Boot folder.
Step 5: Start HTC One X in bootloader mode. To do this:
Switch the phone off
Press & hold Volume down + Power buttons
When the options appear on screen, select "FASTBOOT".
You can use volume keys to scroll up & down and use Power button to select an option. This will put your phone in bootloader mode.
Step 6: Now connect your phone to the computer via USB.
Step 7: On your computer, navigate to Fast_Boot directory. Once there:
Windows users: right click on flash-boot-windows.bat and select "Run as administrator".
Mac OS X users: double click on flash-boot-mac.sh.
Linux / Ubuntu users: double click on flash-boot-linux.sh.
This will flash the kernel on your phone.
Step 8: Now select "Bootloader" on your One X, using the Power button.
Step 9: Then select the "Recovery" option to boot into CWM Recovery mode.
Step 10: In CWM recovery, select the option "Backup and Restore", then select "Backup". This will backup your current ROM.
Step 11: Select the option "wipe data/factory reset", then select "Yes" to confirm.
Step 12: Select the option "install zip from sdcard", then "choose zip from sdcard".
Step 13: Now select the ROM zip file that you put on your device in step 2.
Wait till the installation is complete.
Step 14: Once installation is done, choose "go back" to navigate back to main Recovery screen.
Step 15: From main Recovery screen, select "reboot system now" to reboot your phone.
Your phone will now boot up in the newly installed ROM. First boot may take some time so be patient with it. You now have Android 4.2 AOSP on HTC One X. It's the ROM that was released for Nexus devices and has the build number JOP40C.