The firmware update N7000BLS4TCE for Galaxy Note is now available for download. It's the official test firmware that brings Jelly Bean 4.1.2 on Galaxy Note N7000. Since it's the official pre-release update, it appears to be stable and works quite well. The build JZO54K is same that was released for Galaxy S3 I9300 and Galaxy Note 2 N7100 / N7105 a while ago. You can flash it on your device with Odin and test it around for yourself. Here is everything you need to know and the step by step guide on how to flash it:
N7000BLS4TCE Firmware Details:

Android Version: Jelly Bean 4.1.2 JZO54K for Galaxy Note N7000
PDA: N7000UBLS4
CSC: N7000UBLS1
MODEM: N7000TCELS1
Build Date: 30th November 2012
Region: South America
Country: Mexico

What's New in this update:

Android 4.1.2 Build JZO54K
Buttery Smooth Performance & Great Stability (Thanks to Project Butter)
Multi-View (Multi Windows Multitasking, same as in Note II)
Multi-View can also be disabled
Ripple Effect on Lock Screen
Page Buddy
Notification Panel can now be customized
New Additions in Notification Panel
Smart Rotation (Screen Display adjusts to your angle of sightings)
Continues Input in Samsung Keyboard (Like Swipe or Android 4.2 Keyboard)
Samsung's Cloud services
Direct Call, Smart Stay and Pop-up Play Features
New Widgets From the Galaxy S III
2 Home screen modes
New Notifications bar
Google Now
Here is a screenshot followed by guide to flash the firmware.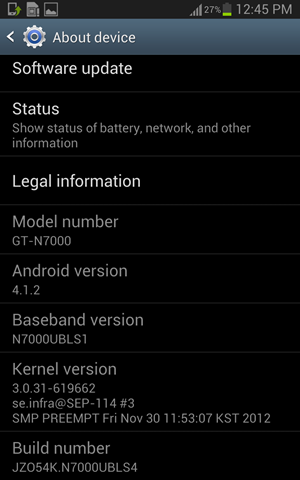 How to Install Jelly Bean 4.1.2 JZO54K on Galaxy Note N7000
Before you Begin:
Make sure you have USB drivers installed for your device.
Your device should be well charged.
Backup all your data, contacts, messages, settings and important files before continuing.
Step 1: Download required files:
Step 2: Extract the downloaded zip files. When you extract the firmware zip file, you will get following files:
CODE_N7000UBLS4_619662_REV02_user_low_ship.tar.md5
MODEM_N7000UBLS1_REV_05_CL1228938.tar.md5
CSC_TCE_N7000TCELS1_619662_REV02_user_low_ship.tar.md5
Step 3: Boot Galaxy Note GT-N7000 in download mode. To do this:
Switch your phone off
Press & hold Power + Home + Volume down buttons till you see a triangle and Android robot.
Now press the Power button to confirm entering the download mode.
Step 4: On your PC, run Odin exe as administrator.
Step 5: Connect your phone to the computer. As per step 2, your phone should be in download mode while you connect it to the PC.
When phone is connected, you will see a yellow sign in Odin and a message saying "Added !!" will also appear at bottom left of Odin screen.
Step 6: Now select the appropriate files in Odin:
Click on PDA button in Odin, then browse and select the CODE_N7000UBLS4_619662_REV02_user_low_ship.tar.md5 file.

Click on PHONE button and select the MODEM_N7000UBLS1_REV_05_CL1228938.tar.md5 file.

Click on CSC button and select the CSC_TCE_N7000TCELS1_619662_REV02_user_low_ship.tar.md5 file.
Select all the files very carefully.
Step 7: After selecting all the files, click "START" button in Odin. Before this: Please make sure that "re-partition" option is not selected while "Auto Reboot" and "F . Reset Time" options are selected.
Now sit back and wait while Odin will flash N7000BLS4TCE on Galaxy Note N7000 device.
Step 8: When process is complete, you will see a PASS message in Odin (on top left).
Step 9: Your device will now reboot automatically. When you see the Samsung logo appearing on it, you can unplug it.
That's it! You now have the official pre-release Android 4.1.2 Jelly Bean JZO54K on Galaxy Note. Enjoy!
via SamMobile