Download & Install AOKPush App on your Android Device

Along with JB-MR1 Milestone 1 release, AOKP also released AOKPush APK for Android devices. This new app is really useful for those who have AOKP ROM. AOKPush app lets you download and flash latest version of the ROM for your device. Whenever a newer version of the ROM becomes available for your device, you will receive a push notification for that. You can subscribe to these notifications for Nightly and Milestone builds, depending on which one you prefer and install mostly. The other 2 feeds are Test feed and Fun feed. The app effectively brings "All the AOKP Builds at your fingertips" and is worth trying.
The feeds are briefly described below:
AOKPush Feeds
Milestone feed: official milestone releases by AOKP
Nightly feed: official (automatic) nightly releases by AOKP
Test feed: unofficial test releases by AOKP developers
Fun feed: messages from the Unicorn barn
Here are some screenshots of the app: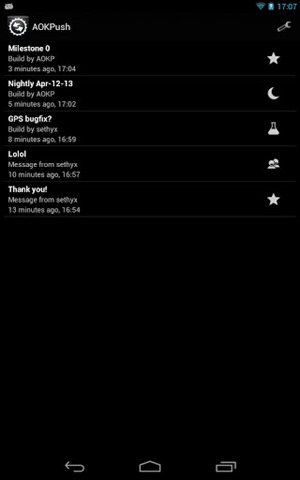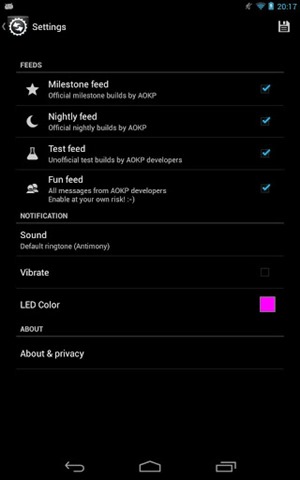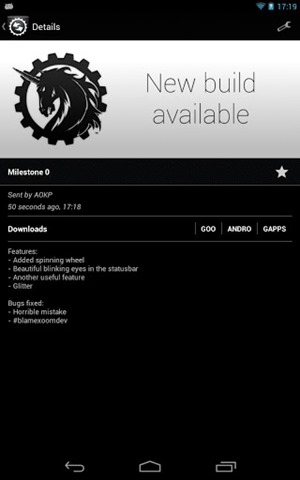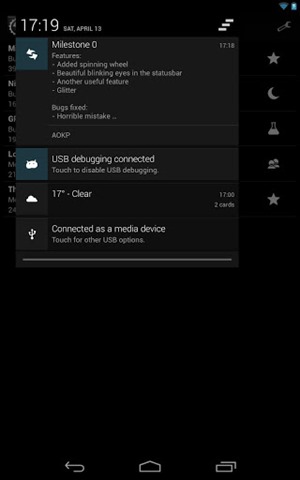 These screenshots show off the User Interface and cool features you get with the app. It also includes toggle for USB Debugging allowing you the quickly enable or disable the setting.
Download AOKPush APK
The app is available on Google Play Store and you can be purchased and installed from there. Price is set at $1.25 which is quite reasonable considering the ease with which you will be receiving updates for new builds and the new features that the team is planning for future builds. Currently latest version is AOKPush 1.0.1. Here's the download link:
Download AOKPush (Google Play Store Link): info.sethyx.aokpush