CyanogenMod Team Merges Superuser in CM 10.1 Settings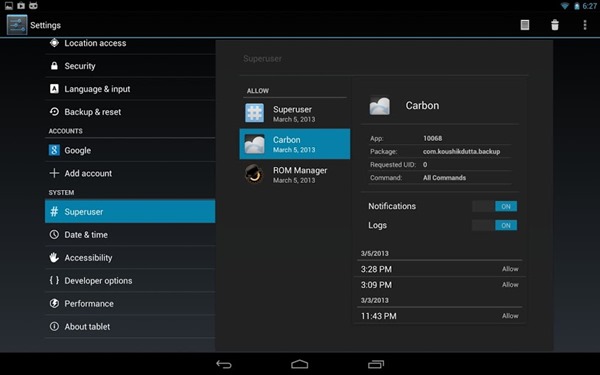 Say hello to CyanogenMod Superuser. CM 10.1, the latest version of the ROM, now comes with Superuser built right into the System Settings. It's the open source super user tool that is embedded into the ROM, so you no longer need a third party app like SuperSU or Superuser now. The functionality comes built-in now in CM settings. Of course you can still use a third party app like SuperSU, if you want to. It's no longer mandatory though. Here is the screenshot of new feature as seen on Nexus 10 tablet: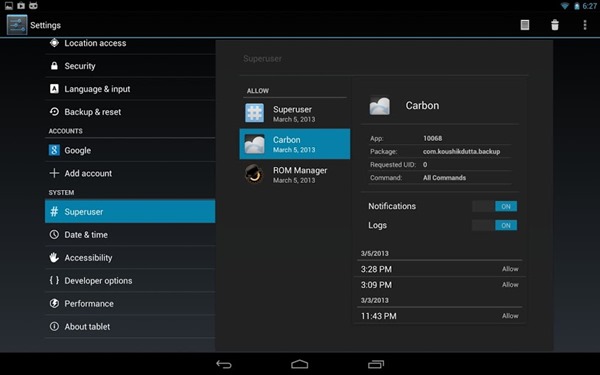 It was posted earlier today by Koushik Dutta who's been working on this for quite some time now and the feature was finally merged into the ROM today. When you install today's nightly builds of CyanogenMod, you will find Superuser in Settings section.
Why Another Superuser
According to Koush:
Superuser should be open source. It's the gateway to root on your device. It must be open for independent security analysis. Obscurity (closed source) is not security.
Superuser should be NDK buildable. No internal Android references.
Superuser should also be AOSP buildable for those that want to embed it in their ROM.
Superuser should also be AOSP embeddable, meaning a ROM can easily embed it into their Settings app.
Maintenance and updates on both the market and source repositories should be timely.
I want to be able to point users of my app to a Superuser solution that I wrote, that I know works, and that I can fix if something is wrong.
Handle multiuser (4.2+) properly
Handle concurrent su requests properly
Based on this, it's easy to guess that the CM 10.1 like super user feature could be coming to other AOSP based custom ROMs soon.
With CM 10.1 M2 release out of the way, CyanogenMod team have sped up the process to merge new features in the ROM. This is first new major addition post Milestone 2 release and we can expect more to follow soon. CyanogenMod ROM is going to get even more awesome. Stay tuned!