Android Jelly Bean 4.2.1 JOP40D OTA for Nexus 4, 7 & 10 Rolling Out Now
Google has just started rolling out Android 4.2.1 JOP40D OTA update for Nexus 4, Nexus 7 and Nexus 10 devices. This minor update fixes the "December" bug in the People app on Android 4.2 powered devices. Android 4.2.1 OTA (Over the Air) update should hit your device soon. You will see a prompt appearing on your device soon as the update becomes available for you. The prompt will look like this: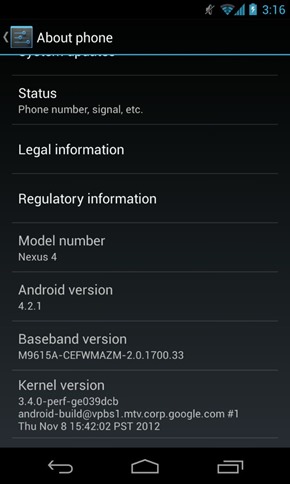 Before you start the update, makes sure you are connected to a WiFi network for faster downloading and to avoid the carrier costs for downloading. You should be on stock JOP40C to be able to receive the OTA update.
For those of you who do not want to wait, you can now download the update and install it manually.
December Bug?
It was a bug in People app on Android 4.2 devices that did not allow you to select any December date from being selected as birthday or anniversary. Weird, no? The bug has been fixed in this release.
Android Jelly Bean 4.2.1 OTA Nexus 4, 7 & 10 (JOP40D)
Direct Download Links for:
Nexus 4: signed-occam-JOP40D-from-JOP40C.625f5f7c.zip
Nexus 7: signed-nakasi-JOP40D-from-JOP40C.659e6288.zip
Nexus 10: signed-mantaray-JOP40D-from-JOP40C.07ac4f5d.zip
After downloading, you can flash the ROM on your device. Our tutorial with step by step instructions on manually updating to 4.2.1 Android will be up soon is now live.